Canon EOS 5DS R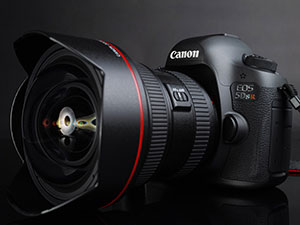 If you are searching for unbeatable imaging, Canon's 5DS R is your best bet. Not only is it the best pro camera in 2017, it is also the most expensive. The smallest details will not miss your eyes. This makes it most suitable for landscape photography.
You'll get an impressive 50.6 megapixels of resolution which is more than twice that of the Canon 5D Mark IV's 20.2 megapixels. If you have image quality as your priority, you have all the excuse in the world to go for this model. If on the other hand, you intend to do more than still photography, you may find the 5DS R a little disappointing. This is because it lacks HDMI output and headphone sockets. On this premise, you may want to consider the 5D Mark IV. The latter has a host of modern features including a 4K video. But at 30.4 megapixels, it still lacks the details possible with the 5DS R.
Nikon D810
Nikon's D810 will quickly find its way into the heart of pro photographers for a host of reasons, including an improved battery life. It is undoubtedly the best Nikon DSLR in the market - until they unveil something new. You will get a powerful 36.3 megapixels. Although not as much as the 50.6 megapixels offered by the Canon 5DS R, it is still enough to capture the tiny details.
Since its release in 2014, there has been a crowd of competitors for the top spot. Canon's release of the 50.6-megapixel 5DS R was a strong statement for competitors. Sony stepped up the game with the release of the Alpha a7R II with an impressive 42.4 megapixels. There is a rumor that Nikon is working on a full-frame mirrorless camera using NX1 technology from Samsung. It will be amazing to see how they quell the growing competition.